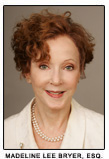 This may be the only lawsuit you will ever have. Make sure that it is a positive experience. MADELINE BRYER firmly believes in the justice system and she will fight to have the system work for you.
MADELINE learned the meaning of "negligence" the hard way. Her life changed because of the negligence of her landlord. She believes that negligence is wrong and that people whose lives have been affected by someone's carelessness have a right to be compensated. While money cannot undo the damage, an award of money can open doors previously closed.
After being victimized in her apartment by a criminal, MADELINE BRYER sued her landlord and left her job as a psychiatric social worker to earn a law degree. She has been in private practice 20 years and has won many million dollar settlements and verdicts fighting for rape victims, victims of sexual assault, lead poisoned children and other victims of serious negligence. The fourth trial she ever litigated resulted in a $1.5 million settlement and her victories have continued. She recently obtained the highest verdict upheld on appeal for a crime victim who was neither sexually assaulted nor maimed.
One of the first lawyers to ever sue the City for their negligent failure to repair lead paint violations in a building that they did not own. She ultimately received a 2.4 million dollar settlement from the City – among the five highest settlements against the City in that year. She presented her legal theory to other attorneys who in turn have been able to follow her lead. Similarly she recently settled a case against doctors and health care providers for not only failing to diagnose and treat lead poisoning, but for permitting a child to return to a lead infested environment.